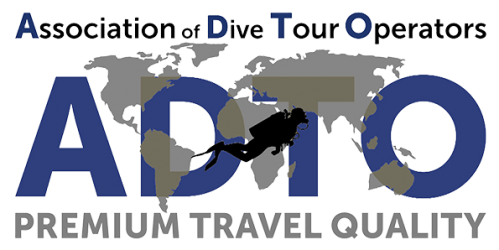 Advantages for customers who book with a member of the ADTO
Permanent quality control: 

The employees of the 19 members of the ADTO are constantly on the road to look at and check the products offered. For this purpose, the ADTO has carefully prepared checklists, which are used to thoroughly inspect our dive centres, resorts and liveaboard vessels.
The customer can thus be sure that the destinations offered by the members of the ADTO are well monitored and will be removed from the program in case of complaints.
Expertise and knowledge:
The members of the ADTO exchange their experiences about 3 times a year at meetings, pass on news and take part in seminars to further develop their knowledge about destinations, travel law, insurance and all aspects of tourism.
Sustainability:
An important topic for travellers and divers is the handling of environment and nature. ADTO members attach great importance to sustainability. This starts in their own office and of course also ends with the selection of destinations and partners. The ADTO sensitizes hotels, diving bases and ships to take care that the valuable nature is treated with care. This includes waste separation, avoidance of plastic waste, ecological aspects of the hotels etc.
ADTO members also pay attention to sustainability in everyday office life. This includes careful handling of paper consumption and printing, waste separation and waste avoidance, not using plastic cups at trade fairs, using environmentally friendly cleaning agents, sensible heating, electricity savings, checking the energy efficiency of new equipment, support for environmental and animal protection associations.
Customers can get information about sustainable travel from us. We are happy to give tips on what you can do yourself.